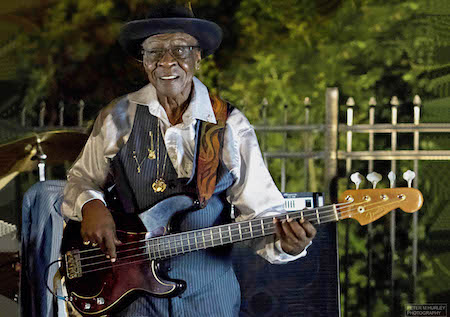 ---
By Aaron CohenIAugust 9, 2022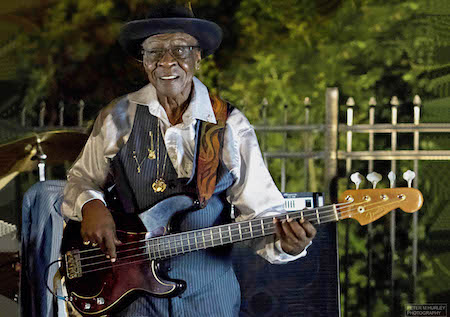 Just before the COVID pandemic, bassist Bob Stroger's touring itinerary took him around the world. He also recorded the recent release It's my name (Delmark) with his Brazilian blues band, The Headcutters, near the southeast coast of their country. Now that theaters are reopening, Stroger has picked up where he left off. At 91, he sees no reason to slow down.
"As long as I keep my fans happy, I'll keep going," Stroger said from his South Side Chicago home. "I never think about retiring from music. In retirement, if you have money, you travel. So I'm retired now because I travel the world doing this.
It's my name sums up Stroger's vast and long experiences. His compositions, especially the title track, showcase his graciously spacious bass lines and his expertise in the history of this music. It embraces material from artists ranging from blues singer Ma Rainey to jazz bandleader Jay McShann. He also revisits pieces that some of his former colleagues wrote, including Eddie Taylor. Such versatility has always been crucial to his work.
"My style changed when I played with Otis Rush and then when I played with Eddie Taylor," Stroger said. "Then when I played with Snooky Pryor, I changed my style again. I had to listen and find styles that matched their playing. With this CD, I didn't want all the songs to sound like same way. So I played all my heroes.
The album also spotlights Stroger's quietly compelling vocals. Still, he remains humble about the emotional impact of his subtle delivery.
"I'm my biggest critic, I just sing my personality," Stroger said. "A lot of good singers can sing like different people, but I can't. I sing as I speak. I'm a country boy and it shows in the way I sing.
This country childhood was spent in Hayti, Missouri. As a young adult, Stroger moved to Chicago, where his father worked for a railroad and, fortuitously, they lived near a hotbed of the city's thriving West Side blues scene.
"When I lived on Oakley Avenue, Silvio was on Lake Street," Stroger said. "I could walk out the back door and look out Silvio's window and saw Muddy Waters, Hubert Sumlin, Howlin' Wolf. I saw all the big players. I never had a suit and they wore suits and ties and I said, 'I really want to do this.' When I was in the cotton fields in the countryside, we didn't have a university education and music was the only thing I could do to be recognized. So I took this route.
Stroger also developed his technique through different idioms. He played in R&B bands and with jazz saxophonist Rufus Forman before becoming bassist for blues guitarist Eddie King throughout the 1960s. These encounters continue to shape Stroger's sound.
"A lot of people said I was a smooth bass player because I play a lot of chromatic notes," Stroger said. "And it's sort of smoothing things out, that's where my style comes from. I think it comes from picking up the jazz notes and some of the things you do on the double bass.
Bandleaders Otis Rush and Sunnyland Slim admired this approach and included Stroger in their sets as more global festivals began to feature blues artists in the 1970s and 1980s. Gradually he began to release records under his own name, starting with In This House: Living in Lucerne, vol. 1 (Crosscut) in 2002. His main inspiration for recording these days is to spotlight his international collaborators, primarily The Headcutters. comics
---
Meghan Stabile was the founder of Revive Music Group.

June 21, 2022 11:37 am

Meghan Stabile, a promoter, presenter and producer, died on June 12 in Florida at the age of 39. The apparent cause was…

Jon Batiste, Critics' Choice for Jazz Artist and Beyond Artist of the Year as well as Beyond Album of the Year.

Jul 26, 2022 2:27 AM

The 70th Annual DownBeat International Critics Poll has made history, with pianist Jon Batiste being the first artist to…

Jones sat down for a live interview last December in Chicago at the Midwest Clinic.

Jul 19, 2022 12:54 PM

Sean Jones is at the peak of his career right now. And he does it in a very modern way. In today's jazz world, these…

The truth documentary Hargrove features the late trumpet player in various locations with different bands.

Jul 19, 2022 12:42 PM

There is a poignant moment, almost like a musical epitaph, near the end of Hargrove, a documentary of the end…

Batiste performing his hit "Freedom" at this year's Grammy Awards.

Jul 26, 2022 2:25 AM

At first glance, it seems counter-intuitive that DownBeat reviewers would name the same musician both jazz artist…