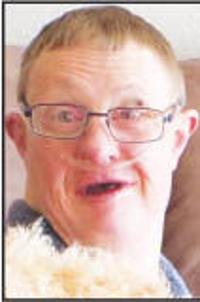 Funeral services for David Eugene Box were held on Saturday September 11, 2021 at Hodge Cemetery in rural Seymour, under the direction of Craig-Hurtt Funeral Home, Seymour.
David Eugene Box was born January 24, 1971 to Eugene and Mabelle Box.
On September 7, 2021, Heaven got a new meal planner, UNO player, social worker and timekeeper. David's biological parents died unexpectedly when he was very young. They surely knew that it was meant to touch the hearts of many and brighten up many lives.
At 5, David came to live with his mom, Rosemary Jones, his sisters, Georgeann and Mina, and his brother, Bill.
David found pleasure in many of the simple things in life.
It was one of his most admirable traits that will hopefully be a great lesson to anyone who knew him.
One of David's greatest loves was good food. He somehow knew what was cooking for supper and what leftovers were in the fridge for his next meal. He was always very careful about what everyone ate to make sure he didn't miss a thing. In his youth, one of David's jobs was to feed chickens leftovers. The chickens were bypassed a few pieces of the bowl. He was also known to have a cat snack or two over the years. Aside from leftover chicken and cat snacks, her favorites list includes all the great comfort foods – cheeseburgers, sloppy joes, pizza, meatloaf, taco salad, ham salad, cookies and gravy, French toast, scrambled eggs, ice cream, Reese's, soda and sweet tea. Driving past a McDonald's, Sonic, or Wendy's with David in the car was almost impossible.
He loved his cats and had many favorites over the years with random, spinning names including "Easter Bunny" and "Buster". Even the less tame cats were comfortable with David when they weren't around anyone else. He liked to chatter and scold them when they fought, as cats often do. Cat and dog snacks were always on his birthday and holiday gift list, and he always made sure they were fed on time (first in the morning and 4 a.m.).
Keeping track of time was a classic David trait. He always had a clock or "phone" with the time and date, a calendar and date blocks. It was sometimes hard to know what day it really was, because he changed the blocks from noon to the next day as part of his routine. Many are probably familiar with David's famous 3-hour snack, which was typically Reese beer and root beer. He could take a nap and wake up at 3 o'clock on his nose to eat his snack. He remembered everyone's birthdays and made sure they were celebrated with family, good food and gifts. His favorite holiday was April Fool's Day because he had to play a trick on everyone, but he usually gave in and shared the trick before you got the hang of it.
Keeping secrets was not one of his best skills.
With a clock, David could usually be found with a UNO deck of cards. He always sorted them out in a way that didn't make sense to anyone but himself, and he knew if a card was missing. David has played hundreds of UNO games with his family and has won many times. He growled upon receiving a "Draw 4" card, but it was nothing that couldn't be resolved by a conversation with Matlock, the Duke Brothers or any protagonist of his current favorite show.
David not only liked the best food, but he also had a good taste for shows and music. He liked to listen to silly songs or traditional religious hymns on his CD player. He started each day with a long list of CDs to read. When he wasn't listening to music, he was watching one of his favorite shows. Barney was one of his early favorites, but as an adult he loved many classics including Little House on the Prairie, The Dukes of Hazzard, Matlock, Highway to Heaven, Walker: Texas Ranger, 7th Heaven and Andy. Griffith. Not only did he keep track of his shows, he also knew everyone's favorites. He knew what shows were on, on what days and at what time, and he reminded everyone to watch "you show". He knew the things that made him happy and wanted others to find the same pleasure.
Armed with pistols in every holster and an FBI badge, David was always ready for controversy. Protecting those he loved was one of his biggest responsibilities, and there are many stories of David not allowing the children of his family to be reprimanded – or to make sure they get everything they can. they wanted. He usually worked on an affair with one of the characters on his shows. His most recent case was that of an adoption lawyer for Wilder. He worked the case day and night and only charged $ 5 and a Dairy Queen coupon which is a pretty good rate compared to other attorneys.
If there was a chore he approved of, David liked to help.
He often folded the laundry or did other odd jobs, but one of his favorites was the "# 1 Egg Man" at Allen and Mina's Sunny Side Up Farm. He liked to collect the eggs from the conveyor belt and put them in the trays. There are on average around 6,000 eggs a day, so that's no small feat.
Family was very important to David and everyone had a special and unique bond with him. He loved his mother and often looked up and chatted with her after her passing in 2013. Dennis and Georgeann were his "boyfriend" and "boyfriend", and he lived the last 10 years of his life with them. He loved spending time with Allen and Mina and could always ask Mina to cook her favorite food. He spent a lot of time with Gerald and Abby and their children, Bryson, Chloe and Liliana and loved being a great uncle. (David says the next baby is a girl.) He had a special bond with Chelsea and always looked forward to welcoming her when he returned from his travels. David also loved his moments with James and Jennifer and their son, Wilder. If he thought James wasn't nice, David would grab him by the collar and say, "Be nice to her!" James' mother, Kathy, was also one of David's favorite people to spend the day with. Some of her biggest smiles have come from family members. There were also many friends David loved as a family, including his doctors and nurses. We thank Dr Myears, Dr Wiggins, Nurse Elizabeth and the other nurses and doctors who helped provide great care to David and gave us so many years with him.
There are so many other memories that could be shared about David, but there is no doubt that stories will be shared for years to come. David was a special person and meant a lot to many people, even those he barely knew. He had many accomplishments on this earth and spread so much joy.
We may have holes in his heart, but we know he no longer has a hole in his. We are grateful for the years we spent with him and look forward to seeing him again.
Online condolences can be left at www.craighurttfuneralhome.com.
To plant a tree

in memory of David Box

as a living tribute, please visit Tribute Store.