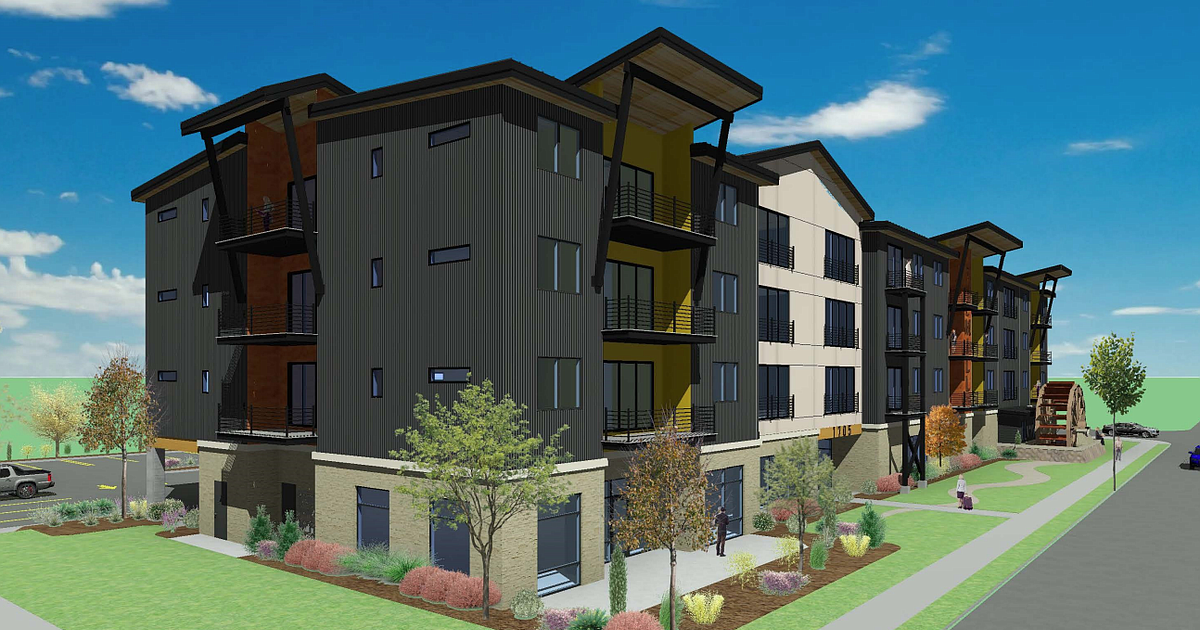 Mill commercial and residential buildings under construction

Three mixed commercial and residential buildings are under construction in Coeur d'Alene.
The four-story place called The Mill is on the west side of Government Way between Mill and Davidson Avenues. It will include five shops or restaurants and a reception hall on the first floor and 43 apartments on the upper floors.
The owner is Widmyer Corp. with design by Momentum Architecture. Completion is scheduled for April 2023. See widmyercorp.com.
Midtown Center is on Fourth Street

Two buildings are planned, and the one to the north is under construction at 821 N. Fourth St.
Two commercial spaces will be on the first floor with 16 high-end apartments on floors 2 and 3. The apartments will have floor-to-ceiling windows, private terraces and a large open lawn overlooking Fourth Street.
The owner is Midtown Ventures with Eric Hedlund Design for the architecture and John Beutler of Century 21 as the commercial realtor. It should be finished in 10 months.
CornerStone offers mixed use, parking

With retail space on the ground floor, 15 residential units on the top three floors and underground parking, the CornerStone is expected to be completed by the end of the summer.
Located at 1579 W. Riverstone Drive, across from Red Robin, offices will be on the first floor, six condos on the second and third floors, and three penthouses (with views of Riverstone Pond) on the fourth floor.
Riverstone Holdings is the owner, Ginno Construction the builder and Architects West the designer. For offices, contact Casey Brazil at 208-770-2590 and for condos, call Nicole Cummings at 208-664-9955.
Schmidty's Burgers opens on Sherman

Opened at 1524 E. Sherman Ave., after being ravaged by the Great Downtown Fire two years ago, Schmidty's Burgers offers fresh food and friendly service.
With seating for 45 customers, owners Nate and Denise Schmidt offer a variety of burgers, fries, onion rings, sweet potato fries, salads, chicken drumsticks (slow-cooked and fried) and beverages (beer and wine coming soon). ).
Hours are 11 a.m. to 8 p.m. Tuesday through Thursday, 11 a.m. to 9 a.m. Friday through Saturday, and 11 a.m. to 3 a.m. Sunday. Helpers are Seth Schmidt, Caleb Schmidt and Hailey Reuter. Call 208-292-4545 for takeout orders.
Now the Tidbits

Companies that will be in the new Lucille building at 2605 N. Fourth St. are Northwest Construction Management, Align Yoga Studio, Refined Salon, Heirloom, and Stylus Wine & Vinyl Bar.
A spy says the building in downtown Wells Fargo has been sold.
Watch for The Manna Shop at 510 Sherman Ave., (the old Christmas At the Lake plaza).
Post Falls RV Campground is under construction at 70 W. Cabelas Way between Cabela's Store and State Line Walmart at The Pointe at Post Falls.
The Party 101 store at the Prairie Shopping Center will close at the end of April.
Many of the 16 lots are available in the planned Prairie Crossing shopping center at the northeast corner of Highway 41 and Prairie Avenue.
A hamburger restaurant and cosmetics salon will be located in the new building at Fourth and Lakeside.
A new building for Etco Services is under construction off Huetter north of Seltice and I-90
The PACR office building is under construction at 1857 W. Hayden Ave.
Breaking Bread Bistro will be where Davis Donuts was at fourth and best.
The old Shopko building will be a new location for Tri-State Outfitters inventory.
A sign on Wayne Drive in Hayden reads "Future home of Blue Chip Chiropractic".
The Open Arms Real Choices Clinic will move from 1800 Lincoln Way to 8056 N. Wayne in Hayden.
Metro Express Car Wash is building a large new location at the northwest corner of Highway 41 and I-90.
Consign Furniture has a "coming soon" sign southwest of the US 95-Lancaster Road intersection.
An express outdoor car wash is being built in the 3400 block of Seltice in Post Falls.
Major changes are coming to the Greenbriar Inn & 315 Kitchen under new ownership at 315 Wallace Ave.
The Rebel Junk Shoppe at 2424 N. Fourth St. will expand to a streetside location.
Bruchi's quick service restaurant is planned for a new building north of the corner of Highway 41 and Mullan Avenue.
The former Ugly Fish restaurant building will be a Berkshire Hathaway Realty in Riverstone.
Watch for the construction of the Vantage Point Brewery across from Michael D's Eatery on Coeur d'Alene Lake Drive.
A Sweet Lou's restaurant, Dollar General store and Grease Monkey auto store will be located at the Athol crossings.
CdA Kids Dental will be at 1341 N. Northwood Center Ct.
TownePlace Suites by Marriott Hotel is being built where the Outback Steakhouse used to be, at the southeast corner of I-90 and Northwest Boulevard.
Several steel storage buildings will be constructed at 3758 W. Hanley Ave. (near Atlas Road) for Hern Ironworks.
A Capriotti's Sandwich Shop will move into the old Chipotle Mexican Grill building at 305 W. Appleway.
A Sarah Hamilton FACE seat will be at 2120 Northwest Blvd.
Watch for major changes with the Burger Bunker and Bunker Bar on Spokane Street in Post Falls.
The Garnet Breakfast in the city center is moving to the old Broken Egg building on Government Way.
A new gas station-convenience store will open soon in the northeast corner of Atlas in Seltice.
A large storage complex and new headquarters for Steel Structures of America is being built near Highway 41.
The Den will be a new tavern at 761 N. Idaho St. in Post Falls.
My Nails & Spa will be on Canfield Avenue.
The CD'A Corner Store adds a kitchen and tables downtown.
Watch for news from Willamette Valley Bank in the 325 E. Sherman Ave building.
Coeur d'Alene Nissan will have a major addition to its building off US 95.
The Mountain Goat Lounge is under construction and is connected to the downtown Moose Lounge.
The Post Falls Pavilion food court will be near the intersection of Highway 41 and Horsehaven.
Trader Joe's obviously hasn't planned a location in northern Idaho yet.
Contact Nils Rosdahl at [email protected]