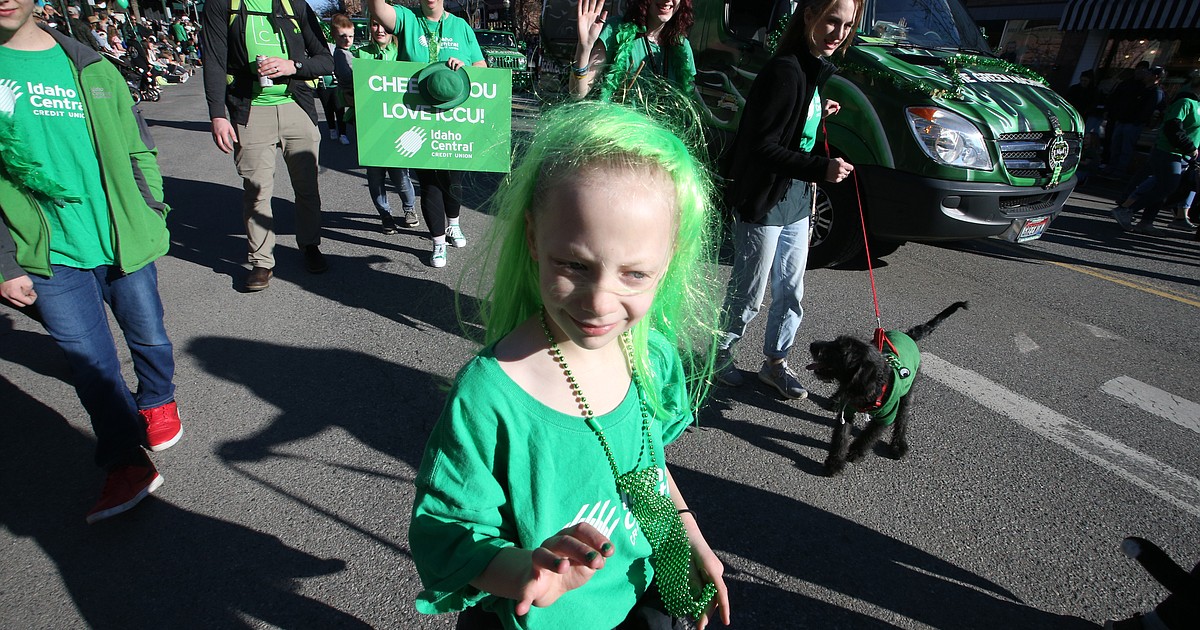 COEUR d'ALENE — Mark Enegren showed up dressed for his role in the St. Patrick's Day Parade Saturday in downtown Coeur d'Alene.
He wore a striped green jacket with white shamrocks, a green tie and collar, bright green pants, green shoes, and a green Jameson hat.
And he wasn't even in the parade.
The Coeur d'Alene man was there to watch – and to enjoy the return of the beloved gathering after a two-year hiatus due to COVID-19.
"It's just a chance to go celebrate after winter," Enegren said.
The luck of the Irish also showed up, with sunny skies and temperatures in the mid-50s.
"Great weather, great city. Parades are awesome in this city," he said. "People are great in this town."
The 17th Annual Parade hosted by the Coeur d'Alene Downtown Association in partnership with the Idaho Central Credit Union was filled with spirit, smiles and laughter. It included a leprechaun, a Guinness beer can costume, numerous dogs, women with red wigs and men with red beards, Tinker Bell in green and the All Things Irish float depicting a cottage, pub and castle that you can only find in Ireland.
A happy Dennis Redmond wore a red beard and a pixie outfit he bought last year on a whim.
"My wife finished it this year and I said, 'Let's go for the parade and I'll do it,' and it was awesome," he said.
Thousands of people lined downtown Sherman Avenue, many also sporting green caps and t-shirts that said "Lepurrchaun", "Feeling Lucky" and "Kiss Me, I'm Irish".
There were also hundreds of excited children, holding green balloons, wearing green ribbons and sporting green shamrocks on their faces.
That the huge crowd rivaled that of the 4th of July came as no surprise to Enegren.
"I think it's because everyone's been locked up for so long, and they just want a reason to get out there and enjoy it," he said.
Peter and Tyree Riggs led a riderless Norwegian Fjord horse named Jostein through the parade in honor of Darwin Brown, who died last year. He was a longtime friend and supporter of All Things Irish on Sherman Avenue owned by Craig and Ilene Moss, who help organize the parade.
"Always a great St. Patrick's Day supporter, dear friend," said Peter Riggs. "So we pay homage to him with the riderless horse, signified by the upside-down boots in homage."
Brown's daughter, Debbie Desmaris, and family members followed. She said they were moved by the tribute.
"It's tough, and it's a great honor at the same time that the people at the Irish store care so much," she said. "They were like a second family and to be part of that is special."
ICCU rolled out 'The Green Machine', along with employees and their families who went all out to be Irish for the day.
"Everyone is having so much fun," said Katharine Munson-Cook, whose daughter Makaylah's hair was dyed green. "I was doing high fives with the kids."
Jen Mackeage and her son Sean walked, waving and smiling with the Hayden Canyon Charter School team.
Like everyone else, they were delighted with the day.
"I love it," Sean said. "It's my first show and I love it."
Jen Mackeage added: "It's so much fun. I like being here. Good time."
She wore a green cowboy hat and a green shirt with the word "Irish" front and center.
Not surprising.
"We are Irish," she said.