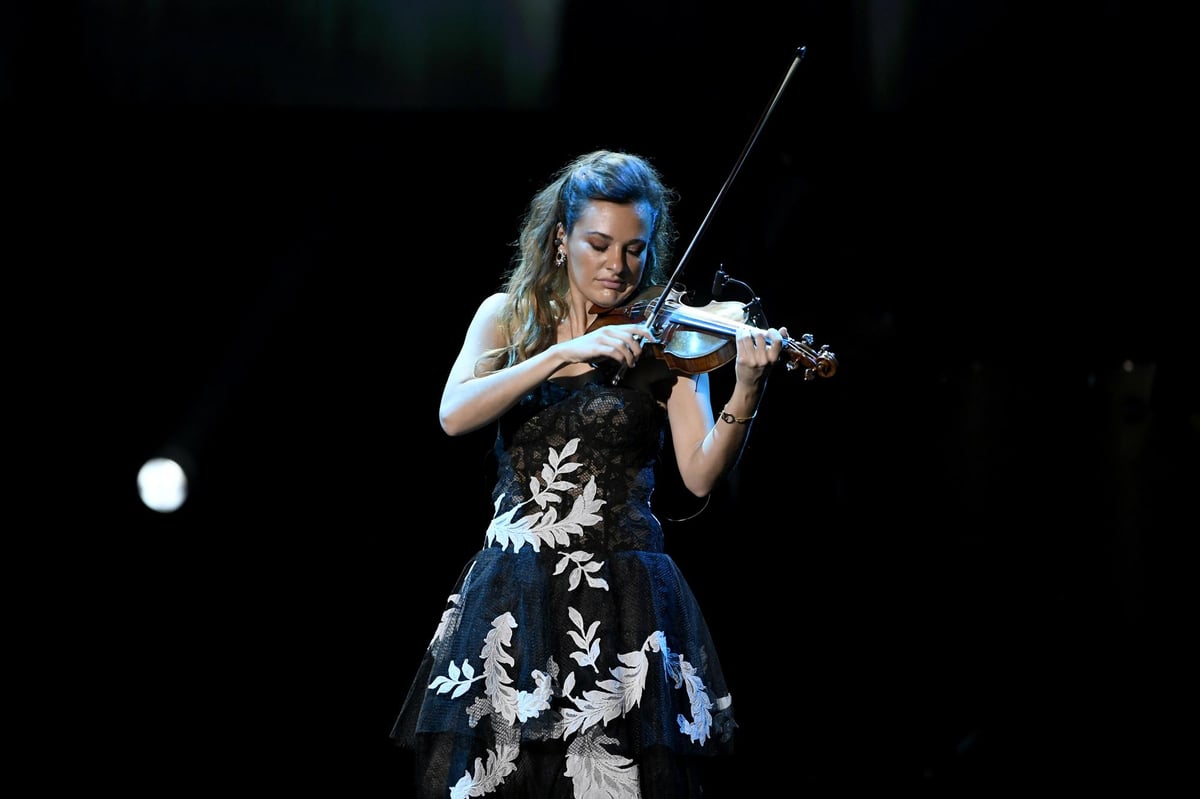 Nicola Benedetti performs onstage during the 62nd Annual GRAMMY Awards at Microsoft Theater on January 26, 2020 in Los Angeles, California. (Photo by Timothy Norris/Getty Images)
She's moving, so I was dumping my late dad's CDs and trying to explain that the format is pretty redundant these days. I don't know if she was joking.
She has a dry sense of humor, but is also an extreme technophobe who can barely get the TV switch to work. I gave up trying to explain Spotify.
Anyway, we took them, in the trunk of the car. About 500, stacked in two cardboard boxes I had bought at the local Margiotta.
We accidentally jumbled up his meticulous alphabetical order, so Beethoven was hanging out next to Glenn Miller. His record player and speakers were collected by a charity shop the following day.
They also took his personal CD player, which was a time capsule for the last album he had listened to. The eject button was stuck and I couldn't open the thing, although I didn't bother to persevere with a butter knife. I don't want to know what was in it, it makes me so tearful.
All of these gadgets were top of the line at the time.
Although their number is still stored in my phone as mom and dad, it's been four years since I last called home and heard his music playing in the background. Mom was saying, wait, as she closed the living room door, where he was listening to a record or playing the piano. He rarely answered, as he probably couldn't hear it ringing.
The plan was to take the CDs directly to one of Oxfam's music stores. I'm not going to keep them, because owning unlistened albums could be compared to keeping a bird in a cage. They are wasted on me.
Since the store was at capacity, I slowly fed them into the local free library instead. It's basically a closet at the end of the park near my house. It's mainly used to convey dog-eared books, although sometimes people put other things in it – a toy zebra was the meat in a Donna Tartt and Jenny Colgan sandwich yesterday.
It would probably have been psychologically easier to get rid of it all at once. Instead, I feel like a sadomasochist for tearing that cast off slowly.
Someone picks them up and they disappear in chunks of about 30 at a time. This mysterious person has never met him, but they will soon own my father's collection, much of which was purchased during visits to a music store near Usher Hall.
As they pass away, I am aware that this is a chance for me to appreciate the music that was my father's passion. "Listen to me," the Alice in Wonderland label would say.
I don't know, because I don't want to go down this sorrow-ridden rabbit hole.
There's Rachmaninoff, Tchaikovsky, Schubert and Chopin, plus a wildcard for one hundred composers. I don't know how he became the owner of Susan Boyle, The Divine Comedy or Barry Manilow. Maybe they were gifts.
Anyway, every day there is a reminder of what he loved.
There are also all the Christmas compilations. They got on our nerves, especially once he was a bit deaf, and turned them up loud, so we couldn't argue while opening presents together.
There were singers of Mendelsson or carol singing, as we shouted "THANK YOU" to whoever our gift came from. Glory Hosanna, until our ears ring.
Every time he left the room, we turned the volume down a notch. I feel bad about it, although I don't think he ever noticed.
Although he was also fond of Edinburgh native jazz musician Tommy Smith, as well as Scott Joplin and Fats Waller, Dad always wanted me to get into classical music. One of his moments of happiness was when I agreed to see Nicola Benedetti in concert with him. He kept asking me what I thought. I think he expected a great conversion. I liked it, and I told him, but I would have liked to get a little more excited.
In general, I opposed it, for some reason. Perhaps it was an aversion to pressure, even though it would have been a direct path to becoming the golden child.
I like music too, but my tastes are different. I don't listen to him the same way he does either. His style was totally immersive. He would put on his headphones, close his eyes and relax.
I prefer to listen on the go. I take advantage of a soundtrack to propel me to the gym, or while I look out the window of the bus. I have compulsions to dance or sing. Sometimes I hesitate to move, if there is no one to see me except the spuggies. It may be a question of generation. Anyway, there are no lyrics for Symphony No. 9 in C.
As kids, my sister and I had to listen to piano concertos at full blast during car trips. We were captives, and I think he thought we could absorb him that way.
"Please can we turn on the radio?" my sister and I would whine. He would capitulate occasionally, but turn down A-ha or Michael Jackson until we could barely hear Take on Me or Billie Jean. As a slightly older parent – he had me at 43 and my sister at 45 – he was never in pop.
So, I continue to slowly get rid of his classic collection. If I see a Benedetti, I might keep it.