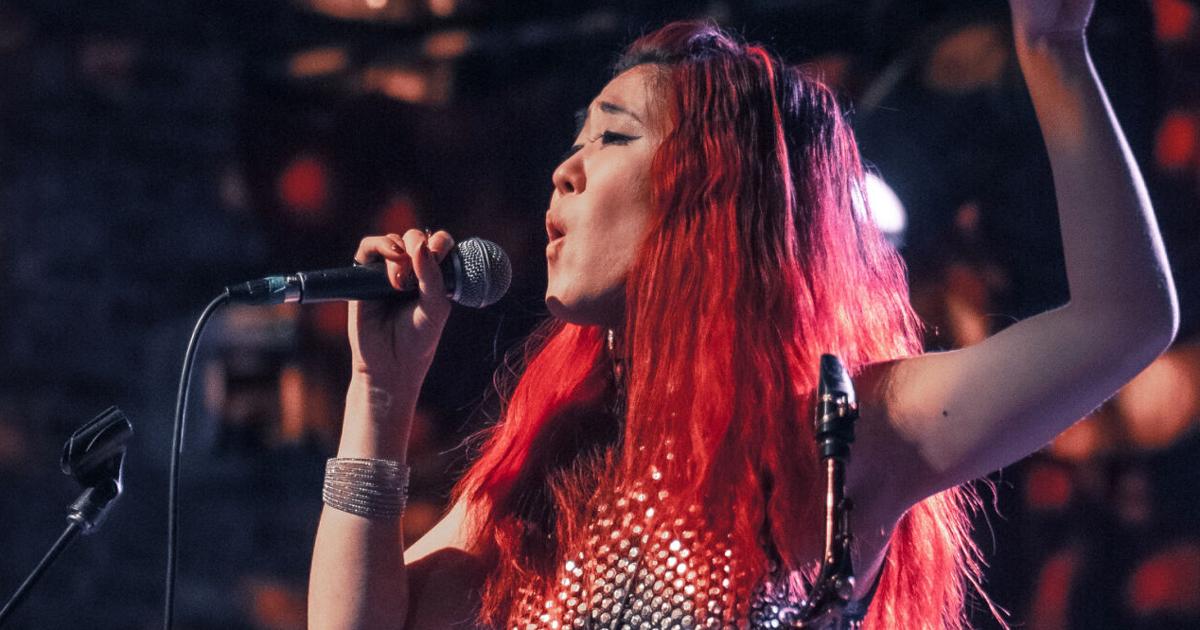 LEE – Half her life ago, in 2006, a young alto saxophonist named Grace Kelly stood alongside veteran saxophonist Phil Woods on stage at the Colonial Theater as part of the Pittsfield CityJazz Festival. At only 14 years old, with several albums already to her credit, Kelly has established herself as a jazz prodigy.
The two saxophonists played jazz favorite "I'll Remember April", taking turns soloing. At the end of the number, Woods removed the signature leather cap he always wore and placed it on Kelly's head – a spontaneous gesture of admiration that has gone down in jazz tradition.
Five years later, Kelly headlined the festival, with Woods as a guest. She recorded the CD "Man With The Hat" in honor of her mentor. Five more years, and she led her group in a tribute to her late friend, a year after his death in 2015.
On Sunday, August 28, Kelly returns to the Berkshires at Lee Meeting House to perform her latest album 'All That I Need', completing the first leg of her 28-date 'Good To See You Again' US tour, which includes stops at renowned venues up north. -is Caffe Lena in Saratoga Springs, NY, Infinity Hall in Hartford, Connecticut, and Le Poisson Rouge in New York.
This is Kelly's 14th album as the band's frontman, with many more as a guest artist. As a teenager, she made a record every year from the age of 12 – 'songs I was learning, lots of jazz standards, also my own songs,' she said over the phone as she drove at a rehearsal in New York.
"I love recording," she explained. "Live performances happen so quickly, you play something and it's done. With register [can] really think about it, feel the nuances, the details that really stand out. In live shows, it may get lost in the sound.
Receiving the hat from Woods had a profound impact on his career. "The moment was recorded by my dad, and Phil gave us his blessing to put it on YouTube. It started circulating in the jazz community, getting tens of thousands [of views] and 10 years later, over 100,000 views.
Suddenly, jazz musicians and people she had never met were thinking, I heard about you, I saw your clip, she recalls. "It was huge for me and my career, for Phil to take me under his wing. I was blessed with incredible mentors and alto sax heroes, [such as] Lee Konitz, Frank Morgan. I wouldn't be the musician I am today without learning from them.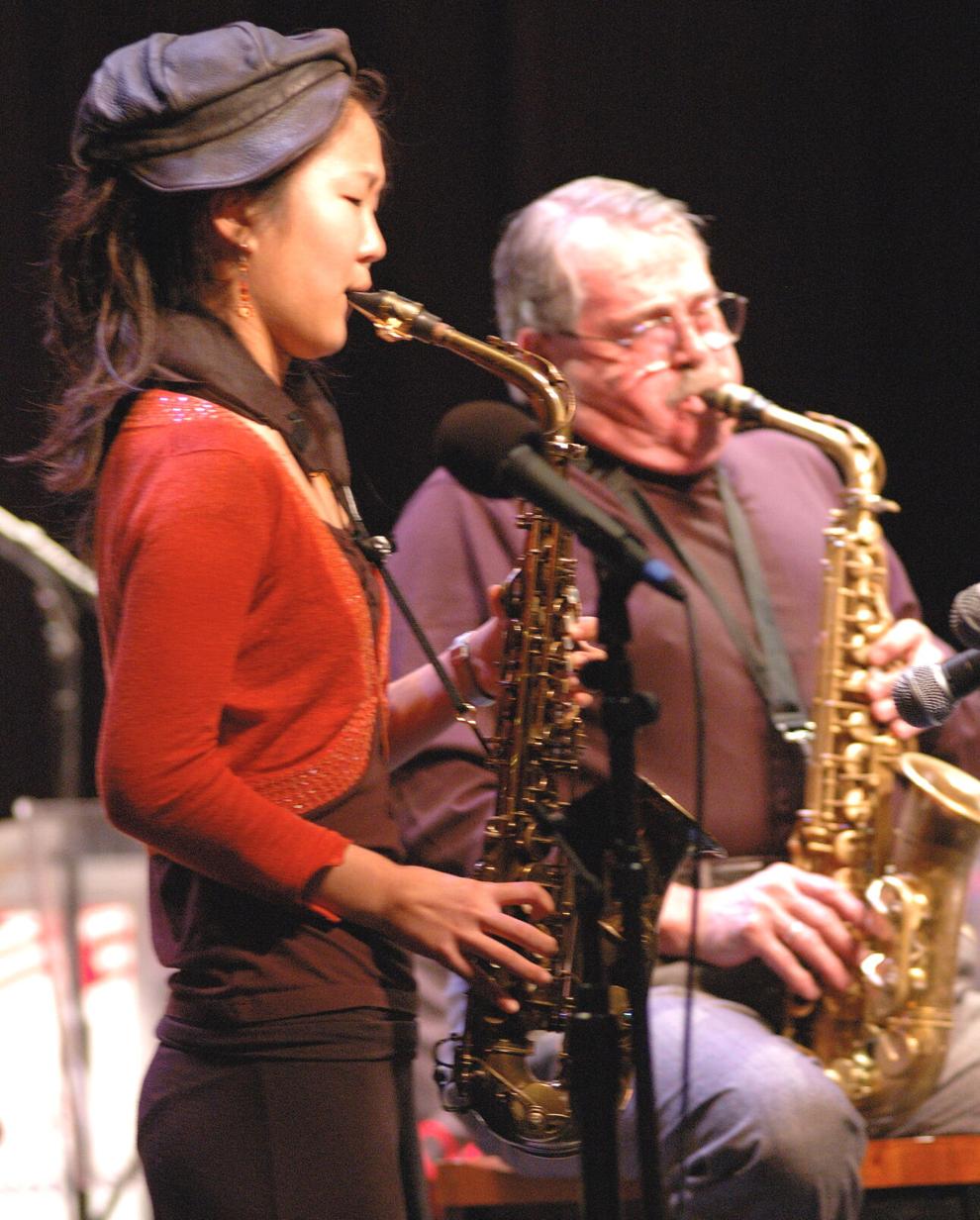 Now 30, Kelly has grown into a confident and dynamic performer, songwriter and performer. In addition to leading her own band, she has performed with notable artists from Wynton Marsalis to Esperanza Spalding, and international orchestras including Boston Pops and Lincoln Center Jazz Orchestra. In recent years, she's become more active writing and performing songs for film and TV, including the Amazon series "Bosch," and dazzled fans with her music video styles.
One of the highlights of his career was performing on "The Late Show with Stephen Colbert" for six months, as part of Jon Batiste's "Stay Human" band.
"Jon is a dear friend, I've been a fan of his for over ten years when he was playing in smaller clubs," she said.
She knew her former alto saxophonist Eddie Barbash from teen jazz camp and had seen Jon on the jazz scene.
When Barbash invited her to a party where Batiste was playing, "we all started jamming and had so much fun," she recalled.
They started doing jam sessions after her stage shows, and she invited him to Blue Note and the Newport Jazz Festival. Six months into his Late Show gig, "He called me and said, how many saxophones do you play? Do you play clarinet? What are you doing on Monday?" A two-week booking turned into six months.
"I learned so much from Jon," she said, "he's such an amazing, talented leader and musical director."
"We recorded my song called 'Lemons Make Lemonade' which I wrote with Jon in mind," she added. "It was a pleasure to have him on my project."
Currently, she plays with Ross Pederson, her drummer for a decade; pianist and Berklee College of Music classmate Devon Yesberger; and bassist James Dale.
Before the pandemic, she toured extensively. "Playing in the Hollywood Bowl was amazing, in front of all of those people, it was a real treat. Scullers in Boston was definitely a home for me," she recalled.
International travel has included several visits to his ancestral home in South Korea. "We toured all over Germany and Italy, France, Uruguay and even Madagascar, which was super cool." she says.
"After my first album release party when I was 12, I got a call from a music producer in Norway. It was my first time outside the country, I was 13 in Grade 8. I really realized early on that this music could literally take me all over the world, I didn't know what a career in music would be like, I just knew I loved it.
In 2006, legendary Boston jazz impresario Fred Taylor of famed club Scullers brought the then 14-year-old Kelly to the Tanglewood Jazz Festival to perform at a media night – she performed at the Jazz Café l next year – where she spoke with Pittsfield CityJazz Festival founder Ed Bride. . Six weeks later, she was performing there with Phil Woods.
"It was like passing the torch," Bride recalls, "she wore that cap for years and always told the story."
"She has quite a history with us and the Berkshires," added Bride, "so it will be great to see her again after all this time. She's 30, too old to be a child prodigy, now she's a young lioness .
Since Lee's Congregational Church was turned into a performance hall, the town has hosted Berkshire Gateway Jazz Weekend each spring, Bride said. "We also organize one-off events there, it's an ideal acoustic place for small ensembles." And the benches are padded, he assured.
Bride sees jazz rising in the Berkshires. "It's becoming more and more part of the landscape, you can see jazz every weekend at the Gateways Inn in Lenox, every Monday at Mission in Pittsfield. It's a growing scene and it's important to feature younger artists like Grace Kelly to appeal to younger audiences.
Kelly has won numerous awards during her career. Downbeat Magazine named her in its back-to-back Critics' Poll from 2009–2017 and its Readers' Poll from 2012–2017; and she won a dozen Student Music Awards from 2006 to 2009, from soloist to composition.
Her memorable nickname is no showbiz affectation. Born Grace Chung, when she was little, her mother remarried Robert Kelly.
"It's a beautiful story of how this name was given to me by my stepfather, who adopted me when I was 8 years old," she said. "I've loved Grace Kelly since I was little, she was the epitome of so much elegance. I used to watch her old movies and always wanted to be a princess.
His parents, who now live in Lenox, are actively involved in supporting his career. "I come from a family of entrepreneurs, so we work well together," Kelly said.
Raised in a Brookline home filled with excellent jazz, classic film, and art recordings, her first introduction to sax was Stan Getz playing "The Girl From Ipanema."
"My parents used to exhaust those recordings, they played them all the time," Kelly said. "To this day, it's one of my favorite sounds on the saxophone."
After piano and, briefly, clarinet lessons, his first saxophone teacher encouraged him to improvise. "He said, play whatever you want. At 10, that's all I wanted to do. I loved writing my own songs, inventing things, and that's jazz.
"I thought it was my calling and I wanted to play all the time. I practiced until midnight, my parents had to tell me to go to bed.
His new album — his first self-produced — has been recorded over the past few months. It all happened so quickly, she says.
"It's quite a diverse range of songs. The initial inspiration [was]what does the feeling of courage sound and mean?"
She asked her fans and friends to send her poems and writings by favorite female authors.
"I wanted to draw inspiration from the female voice, from strong women. One track was inspired by Maya Angelou's poem "And Still I Rise", its spirit really touched my heart. I let feelings of courage be my compass throughout the record.
After several years in New York, Kelly now lives with her companion in Los Angeles.
"New York is awesome, it's very lively, very bustling," she said. "Now we live in a beautiful Zen zone, and we can spend time with the birds, go hiking. It balances our lives.
IF YOU ARE GOING TO …
What: Grace Kelly Quartet with Devon Yesberger, keyboards; James Dale, bass; Ross Pederson, drums and Grace Kelly, saxophone/vocals
Who: Berkshires Jazz, Inc. & PAZZ Productions present
Where: Lee Meeting House, 25 Park Street, Lee
When: 7 p.m. Sunday, August 28
Admission: $35, general; $55, premium seats
Tickets and information: berkshires-jazz.ticketleap.com