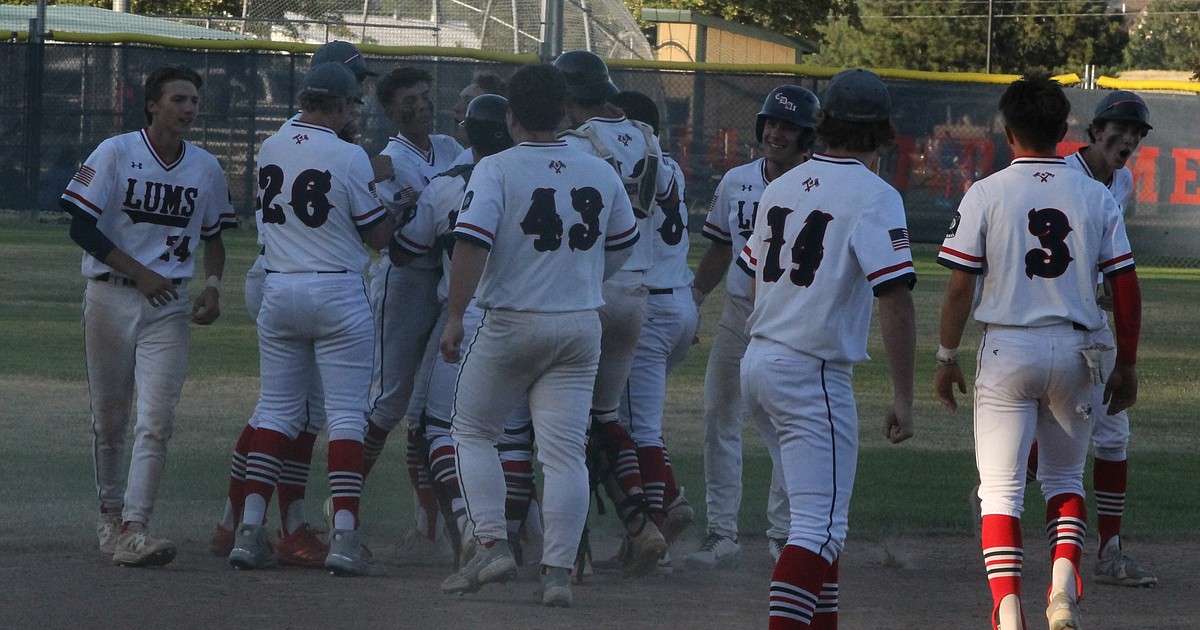 By JASON ELLIOTT
Sports editor
COEUR D'ALENE – As they made their way to home plate at the end of the sixth and seventh innings, the Loggers of Coeur d'Alene kept asking, "Who's going to be the guy?"
On Thursday, one was a guy who wasn't with the team last year, the other a guy who's been in business all summer.
Spencer Zeller, who has played the past three years as a member of the Prairie Cardinals American Legion team, landed a hit as the Lums beat the Lewis-Clark Twins 10-9 in Game 1 of 'A Best of 5 Series AA Area A (District) Tournament Championship at Thorco Field.
In Game 2, more 'guys' stepped up as Zach Garza scored a two-point brace in the sixth to score Kyle Bridge and Zeller as the Lumbermens rallied to beat the Twins 6-4 to take a lead. 2-0 in the series.
"Zach was just amazing in that final round," said Coeur d'Alene first-year coach Darren Taylor. "He came over and had a big nip, then closed them on the seventh."
Cooper Larson netted a two-run brace late in the fourth inning to tie it at 2-2 for Coeur d'Alene (25-8), who can win the series and advance to the State Tournament in Game 3 to Harris Ground at 5pm on Saturday. If Lewis-Clark (5-25) wins Game 3, Game 4 is at 7 on Saturday, with a possible Game 5 scheduled for Sunday at 5 p.m. at Thorco Field.
"We have some good mojo right now," Taylor said. "I feel pretty good to close things off and see what this attitude can do for us. "
In the first game, Zeller, who walked twice in the game, hit a right field ball that was missed by the right fielder, allowing pinch runner LJ Davey to score from the second.
Marcus Manzardo netted a three-run brace in the fifth inning for Coeur d'Alene, who scored three runs in the bottom of the seventh for the win.
"It was a huge victory for us to win the first game of the series," said Manzardo. "It feels good, but we need to take care of more business. "
Lewis-Clark opened the scoring on a two-run homerun from Nate Guinard. Coeur d'Alene tied on a two-run Cooper Larson shot in the fourth.
"Our team is fighting until the last inning," said Manzardo, whose older brother Kyle was drafted by the Tampa Bay Rays on Monday in the second round of the MLB freshman draft. "I think we're going to do really well for the rest of this tournament after beating their ace (Carson Kolb)."
Zeller, who hits ninth, walked twice and Kyle Bridge, who hits eighth, had two hits and two runs scored. Liam Paddack struck out 12 in 4 1/3 innings for Coeur d'Alene before being called out after making 104 shots.
"It's amazing," Manzardo said. "We were lucky to have him (Zeller) this year when Prairie didn't have a Legion team. It's great to have it. He's a competitor, and that's what we love.
"We gave up a lot of opportunities at the start with a few basic mistakes and a few mistakes on the pitch," Taylor said of the opening game. "But these guys keep fighting. This is what we have been talking about all year. The bottom of our roster won this game for us. Our 7-8-9 (Zach Garza, Bridge and Zeller) pulled it off, and that's when you know you have a good team.
With only Coeur d'Alene and Lewis-Clark in the league this year, the district tournament has gone from a traditional double-elimination tournament to a best-of-5 series, with Coeur d'Alene hosting the first two games before the series changes. at Harris Field in Lewiston for Games 3 and 4 on Saturday.
Guinard finished with three RBIs for Lewis-Clark.
"It was a real competitive game for both sides," fourth-year Lewis-Clark coach Kevin Maurer said after the opener. "They just finished with one more run. They took the lead early, we hit back and took the lead, and they hit back. They have just finished it on a pied-à-terre.
FIRST GAME
Lewis-Clark 000 233 1 – 9 10 1
Coeur d'Alene 000 502 3 – 10 11 2
2 withdrawals during the marked winning run.
Carson Kolb, Thomas Reynolds (4), Cole Mckenzie (6) and Nate Guinard; Liam Paddack, Cooper Erickson (5), Owen Benson (6) and Jackson Scherr. W – Benson. L – Mckenzie.
HITS: LC – Hepburn 3, Taylor, Reynolds 2, C. Kolb 2, Guinard, Mckenzie. Cd'A – Taylor, Manzardo 3, Scherr, Larson, Rimpau 2, Bridge 2, Zeller. 2B – Reynolds, Hepburn, C. Kolb, Rimpau, Manzardo 2, Zeller, Scherr. RH – Guinard, Larson.
SECOND PART
Lewis-Clark 101 011 0 – 4 6 0
Coeur d'Alene 000 303 x – 6 9 1
Kayden Carpenter, Elliott Taylor (3), Jose Barajas (4) and Jake Feger; Ryan Schneider, Troy Shepard (6), Zach Garza (7) and Jackson Scherr, James Guyer (5). W – Shepard. L – Barajas. S – Garza.
SHOTS: LC – Hepburn, Taylor, Reynolds, C. Kolb, Feger, Mckenzie. Cd'A – Taylor, Garza, Manzardo, Scherr, Schneider 2, Larson, Bridge, Zeller. 2B – C. Kolb, Taylor, Feger, Larson, Manzardo, Garza, Schneider 2.
WASHINGTON AA DISTRICT TOURNAMENT
Cd'A Marine 9
West Valley 4
HEART OF ALENE – Jayden Butler hit a two-run homer in the sixth inning and finished with three RBIs as Navy team Coeur d'Alene Lumbermen defeated West Valley in a losing game in the first tour of Washington's class AA district. tournament at Lake City High.
Coeur d'Alene Navy (27-11) will play Gonzaga Prep today at 5:30 p.m. Coeur d'Alene Red opens the tournament today at 5:30 p.m. at Thorco Field against the winner of Deer Park-Shadle Park on Thursday.
Karl Schwarzer scored a two-run brace in the fourth inning for the Coeur d'Alene Marine, one of the Lums' six more hits. Jake Dannenberg went 3 for 4 with an RBI and two runs scored for the Lums.
West Valley 020 020 0 – 4 8 2
Cd'A Marine 212 202 x – 9 13 1
West Valley battery unavailable; Nate Weatherhead, Karl Schwarzer (3), Aidan Blanco (6) and Cooper Smith.
ACCESS: WV – N / A. Cd'A – Smith, Shepard, Dannenberg 3, Reese 2, Blanco, Currie, Schwarzer, Butler 2, Murphy. 2B – Schwarzer, Reese, Dannenberg, Smith, Murphy. RH – Butler.