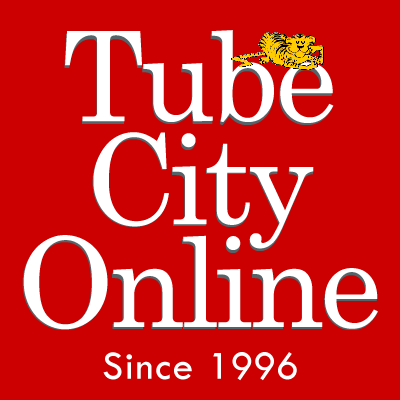 By Bonnijean Cooney Adams
The Almanac of the Metro City
July 16, 2021
Posted in: Entertainment
The cast members of "Dracula, a Musical" gather on stage at McKeesport Little Theater during a rehearsal break. The show, which debuted on the same stage in 1993, opens today. (Photo by Bonnijean Cooney Adams for Tube City Almanac)
If you are going to…

"Dracula, a musical"

Or: McKeesport Little Theater, 1614 Coursin Street.

When: July 16, 17, 18, 23, 24, 25, with shows on Friday and Saturday at 7:30 p.m. and Sunday mornings at 2 p.m.

Tickets: $ 20 for adults and $ 12 for students with valid ID or under 18. To reserve, call the theater at (412) 673-1100 and leave your name, phone number, the date of the show you would like to see and how many tickets you need. There is no online reservation for this show. No one will call you back about your reservation unless there is a question or concern. After 5 p.m. for a same-day visit, you will need to purchase tickets at the box office.

More information: www.mckeesportlittletheater.com
When the cast of "Dracula, a Musical" takes the stage at McKeesport Little Theater, that will only mark the third round of the show – all at MLT.
Roughly based on Bram Stoker's 19th century novel, it premiered on July 9, 1993, a collaborative effort between Carnegie native songwriter / lyricist Paul Michael Brown, his mother Rita Brown, who was the original executive producer, and friend of the Al Snyder family. , which has a recording and production studio based in Pittsburgh.
The well-received show premiered a second time in the late 1990s and should have been the MLT season finale in May 2020.
"We already had the cast when we had to cancel due to Covid," producer Lori Stramaski said. "We got a lot of feedback from the original cast, but we had a few roles that we needed to find replacements for. Jonathan, Inspector Farnsworth, Emily and the whole set had to be filled.
"We only had two rehearsals in 2020 before we had to close," she explained. "We started rehearsals (for current production) in early May when many restrictions were lifted."
This account by the famous Count Dracula paints a different picture of the character. Sramaski describes it as "more of a love story".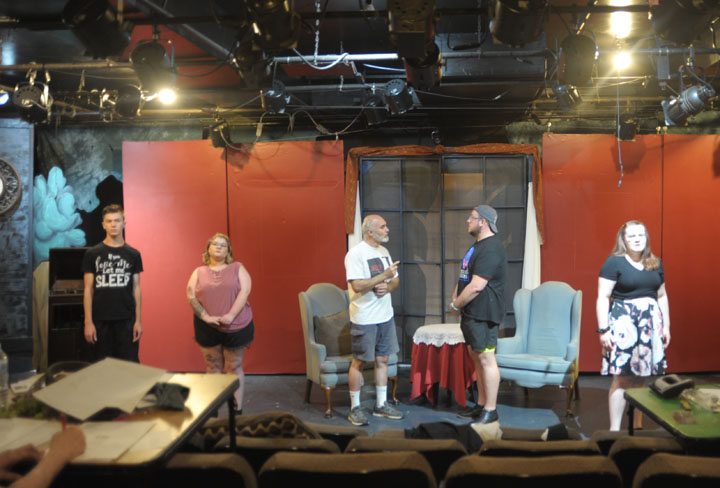 As director Dorothy Fallows takes notes, key cast, from left, Evan Pietrzak as Jonathan, Jessie Freuden as Lucy, Ed Gergerich as Van Helsing, Ron Clawson as Count Dracula, and Anna Gergerich as Mina, share a scene from " Dracula, a Musical. " (Photo by Bonnijean Cooney Adams for Tube City Almanac)
---
The main characters definitely agree and explain that there is almost a love triangle between the Earl, a woman named Mina, who reminds her of the love of her life from a long time ago, and Mina's fiancé, Jonathan. .
MLT veteran Ron Clawson, who plays the Earl, said his Dracula, although 200 years old, is "very charismatic and appears to be in his late twenties or thirties."
Evan Pietrzak, who plays the somewhat sultry Jonathan Harker, said the musical is presented from Dracula's perspective. He replaces the actor originally chosen when the series was scheduled for 2020.
Pietrzak said he got a call to reprise the role one evening from Phil Boatright, who wears two hats as stage manager and McPherson.
"I wasn't very familiar with the show at the time," said Pietrzak. "It's very interesting, and so different from the usual Dracula."
Anna Gergerich plays Mina Van Helsing, engaged to Jonathan but inexplicably drawn to the mysterious Earl.
"Her character is a lot more romantic and not as much of a vampire," she said.
Jessie Freuden is Jonathan's brave sister, Lucy. The Harkers are Van Helsing's adopted wards from childhood and live in his estate, where the basement of the house is a haven for his patients.
"Lucy is a typical 16-year-old girl," Freuden said. "Although she lives in this big house, she wants to leave and meet new people, see new places. She feels trapped and is a little rebellious.
So, while Count Dracula is obsessed with Mina, he can't ignore all the attention coming from Lucy's, resulting in rather dire consequences.
Boatright's daughter, Colleen Boatright, is portrayed as Sylvia and the whole. As Mina's best friend, she was supposed to be his bridesmaid but was found murdered.
The murder suspect is Renfield, the patient of Dr. Van Helsing, played by Dylan Stramaski.
Paul Brown's music and lyrics captured and held the attention of theatergoers and critics alike from the early days of the series. They include "Children of the Night", "Dracula", "Show Me the Light", "Nobody Believes in a Mad Man" and "A Stranger's Eyes".
Clawson said "Show Me the Light" is one of his favorite numbers. "It shows another side of Dracula. It's the story of his life," he said.
"He's very charming," Clawson said. "He is instantly drawn to Mina because of her eerie resemblance to a woman named Alexandra, who was the love of his life."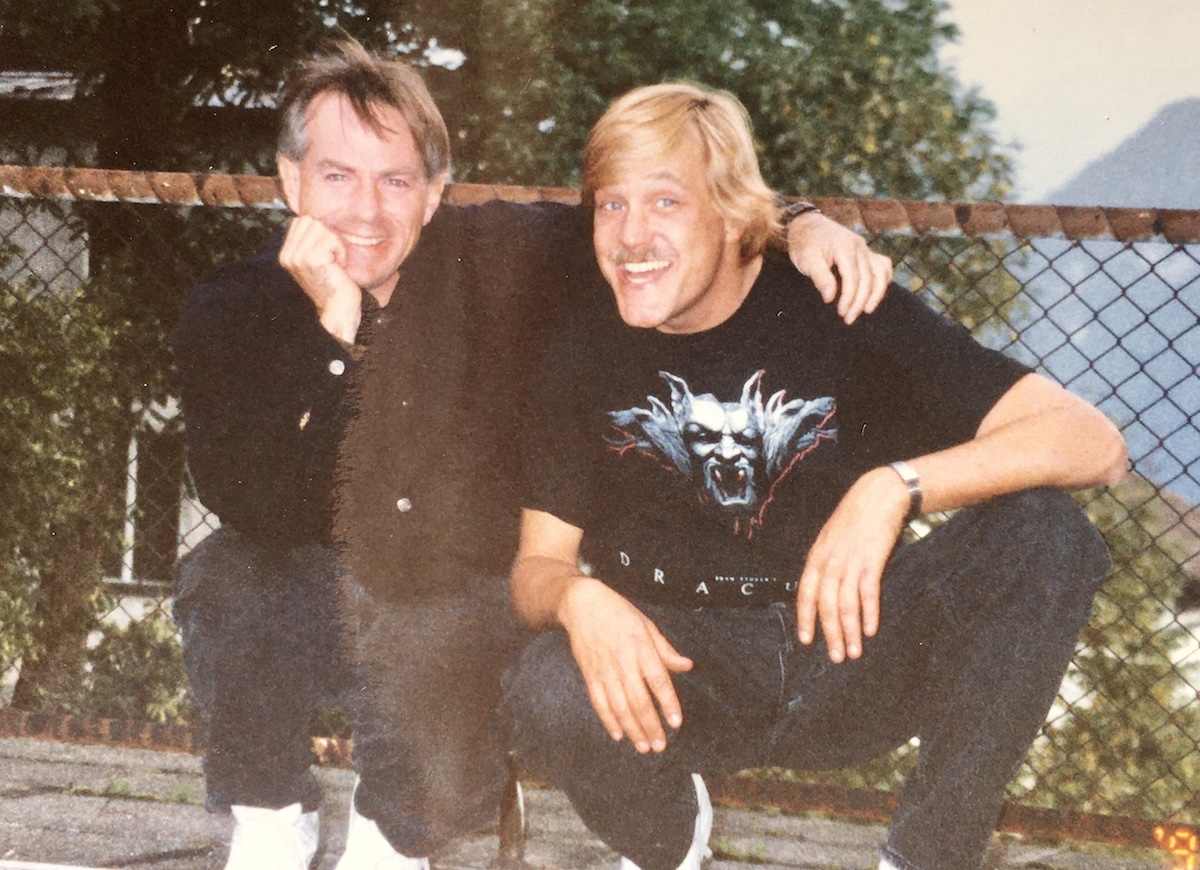 The collaborators of "Dracula, a Musical" Al Snyder and Paul Michael Brown during a trip to Switzerland. (Photo courtesy of Al Snyder.)
---
A CD of the show was produced at Snyder's Albey Road Studio in 1994, featuring local singers and other Broadway singers.
Paul Brown has since passed away and Snyder owns all the rights to "Dracula, a Musical". He attended various rehearsals at the McKeesport Little Theater before the last show and said hearing the music again brought back many memories, including how he met the Brown family in the first place.
"We lived in the same neighborhood when Paul was young, and he was my newspaper delivery boy," Snyder said. They were also the only two pianist musicians of the time.
Professionally, Snyder has established his studio, where he continues to write his own songs and lyrics while helping advance the careers of many talented and aspiring musicians.
Years later, Snyder said Brown walked into his studio to seek advice and guidance on a project with songs and lyrics he said were destined to become a musical.
"Paul would come up with a new song every two weeks and we were preparing the tracks for what was to become 'Dracula, a musical'," Snyder said. "He was the primary writer (of the song) and 95% of the lyrics were his too."
Snyder said they worked together for about two years on the project.
"It was a really easy collaboration with a lot of people," Snyder said. "For Paul, it was definitely his baby."
Once the music was defined, another collaborative effort entered the script, Snyder said, involving rewrites and adjustments.
"After the script was completed, it was shown at McKeesport Little Theater," Snyder said. "The rave reviews from all the papers on Paul's score kept the theater completely packed throughout the race."
The music was what prompted at least two current cast members to audition.
Anna Gergerich is joined by her real father Ed Gergerich as psychiatrist Dr. Van Helsing, who is also her stage father.
Ed starred in the musical the second time it was staged at the McKeesport Little Theater. Sporting his plaster shirt at a recent rehearsal, he said he then played Farnsworth and met Paul Brown.
He said Anna was only a young girl of around 8, but they agree that she was already fascinated by the show and the music.
Clawson said he discovered the music CD when he was part of MLT's Juniors program and grew up loving music and performing.
"I always wanted to play Jonathan," Clawson said. "People should come and see this locally written music and then get a glimpse into Dracula's mind and struggle with life and love."
Producer Stramaski said using the recorded music was the hardest part of the show.
"We're used to the music director playing the piano for our shows," she said. "'Dracula' has a recording of the music, so it's a little different. This "Dracula" was originally designed to be interpreted that way, and we stick with Paul Brown's original vision for the show. "
Cast and crew of "Dracula, a musical"
Ron Clawson as Dracula, Anna Gergerich as Mina, Jessie Freuden as Lucy, Evan Pietrzak as Jonathan, Dylan Stramaski as Renfield, Ed Gergerich as Van Helsing, Phil Boatright as McPherson, Tom Arillota as Inspector Farnsworth, Terri Davis as Emily and Colleen Boatright as Sylvia / together.
Together:
Dakota Vargo, Savannah Vargo, Margaret Valentine, Ellie Valentine, Dave Fleming and Colette Funches.
Directed by Dorothy Fallows, with Jan Gerber as executive producer and Lori Stramaski, producer; Phil Boatright, manager; Dave Fleming, set builder, and Bethany Kirk, lights.
---
Bonnijean Cooney Adams is a contributing writer. She can be contacted at [email protected]
Originally published July 16, 2021.
In other news:
"A fire damages three Ho…" || "Bird disease affects …"