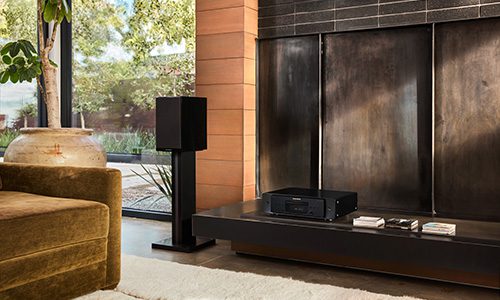 In addition to its stereo product line, Marantz has announced its new CD 60 CD player.
Marantz claims that its latest source component has been developed to deliver high levels of sound quality through the implementation of its latest circuit designs and advanced internal parts and materials.
"With so much attention devoted to the burgeoning vinyl market and the popularity of streaming content, we sometimes forget that an entire generation of music lovers has built significant collections of beloved compact discs," says Joel Sietsema , Marantz brand president.
"Marantz was present at the dawn of CD technology with our original player, the CD 63. Today, the CD 60 reminds us why we fell in love with the format 40 years ago – offering more warmth, musicality and detail than any player in his class."
The Marantz CD 60 CD player features a new industrial design
Complementing the company's recently launched MODEL 40n integrated amplifier, the new CD player uses a modern aesthetic to allow the component to blend into a range of home interiors without looking out of place.
Focusing on the entertainment capabilities of the CD 60 CD player, the global AV manufacturer claims that the unit uses the latest version of its Hyper Dynamic Amplifier Modules (HDAM) amplifier modules in the player's analog circuit stage .
The company points out that the HDAM modules offer superior overall response compared to standard components that other products typically use.
Marantz claims to have optimized HDAM specifically for use in the CD 60 CD player to produce more accurate current flow at lower distortion levels at higher frequencies.
Supporting the value side of the new source component, Marantz explains that the unit includes a USB-A input on the front panel to allow the CD 60 CD player to act as a DAC (digital-to-analog converter). The unit's DAC capabilities provide users with the ability to play MP3, WMA, AAC, WAV, FLAC HD, ALAC and AIFF files at up to 24-bit/192kHz and high-resolution DSD files at up to 5.6 MHz.
More Marantz News: Did You Know? 5 big advantages of Denon & Marantz CI solutions
To aid the player's digital audio performance, Marantz notes that the unit incorporates a 24-bit digital-to-analog converter, and to allow users to customize the CD 60's sound, the player offers a choice of two filter options. The first filter is said to produce a soft attenuation, while the second filters a sharper attenuation which is supposed to result in improved imaging.
Additionally, the CD 60 CD player also features the company's proprietary HDAM-SA2 headphone amp circuitry that comes with three settings: low, mid, and high.
These settings allow users to match the headphone amp with their favorite headphones, and when the headphone amp is not in use, the circuit can be disabled to eliminate any possible interference.
Publish