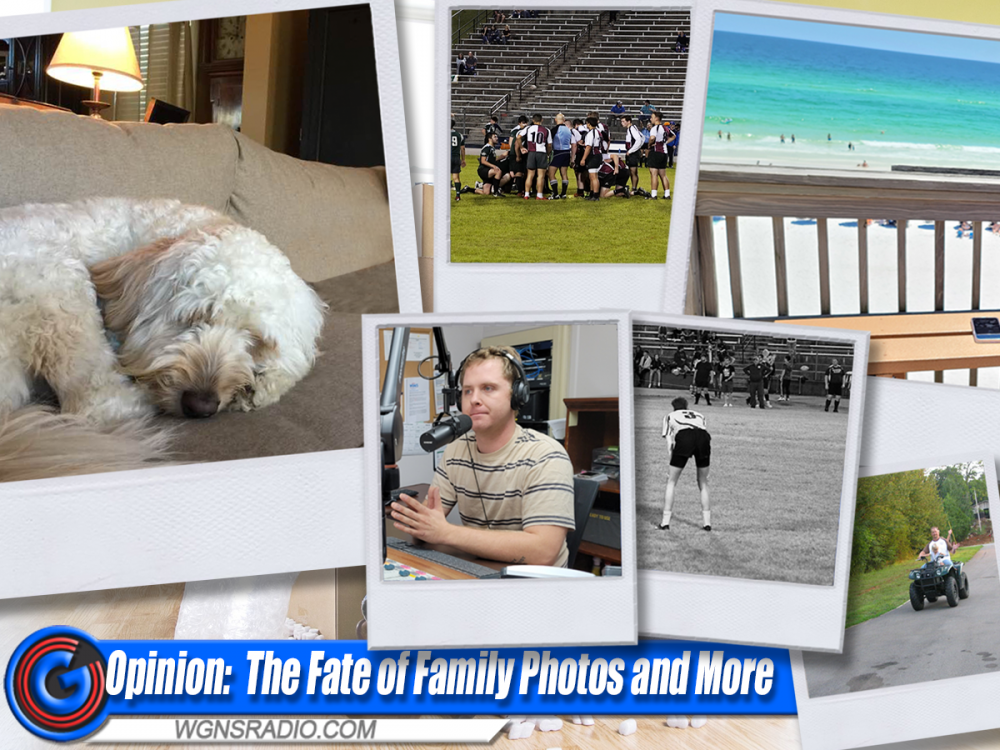 Today's Radio Commentary: Family memories of photos you can hold in your hand and a special nostalgia, to family photos you can view on your computer. But, how to keep both permanently for the years to come… to pass them on to other generations and what type of data will be usable in the future? Old technology versus new technology, what will happen to the future? With more, here's MTSU journalism professor Larry Burriss…
Commentary – Verbatim: "My brother and I recently received several dozen family photographs, some dating back to 1907; over 100 years. I made digital copies of everything and then a set of prints. Each of us therefore has half of the originals, plus a full set of prints and digital images.
But, how do we store digital images? If we put them on the hard drive of our computers and the drive fails, those images can end up in the Gilligan's Island computer. If we put them on some sort of removable media, what if in a few years the media is no longer usable or compatible?
Did you know that some linguists and symbologists are trying to figure out what kinds of signage to put on nuclear waste repositories so people know what they are thousands of years from now? If you think that's silly, remember that until the 1800s it was impossible for anyone to read hieroglyphs. The meaning of the symbols had been completely forgotten after only a few thousand years.
I say all of this as a kind of cautionary tale about all those songs, pictures, and files you have stored on your computer. How do you know that in a few years you will be able to access it? Only a few years ago we were told that CDs were the ultimate storage device. Then we were told they could have a useful life of just 50 read-write cycles.
Over the years we've had 5 and a quarter inch discs, 3 and a half inch discs, zip discs, CDs and now USB drives and cloud storage. Each of them provided an order of magnitude increase in storage. It also means that when, not if, but when, the drive fails, a lot more material will be lost.
And notice here, I haven't even started to address the issue of software compatibility, or rather, software incompatibility.
Do you know what I found the other day? I found a text file that I had written in PFS First Choice, the very first word processing program I used, about 40 years ago. I still have several dozen files in WordStar. So why not convert them to Word? Well, older versions of Word had a conversion add-on. The new version no.
But then I realized something. Maybe you noticed it too. Those old photographs that I talked about are over 100 years old. They held up well and the images are still crisp and clear. To watch them, I just have to open the album and there they are.
Do you really think any of those thousands of computer images you own will be readable even 20 years from now? Only in your dreams. – I'm Larry Burriss.

About Dr. Burriss
Larry Burriss, a journalism professor, teaches introductory and media law courses. At the graduate level, he teaches quantitative research methods and media law. He is a graduate of The Ohio State University (BA in Broadcast Journalism, MA in Journalism), University of Oklahoma (MA in Human Relations), Ohio University (Ph.D. in Journalism ) and Concord Law School (JD). He has worked in print and broadcast media and public relations, and has published numerous articles in academic and popular publications. He has won first place in the Tennessee Associated Press Radio Contest nine times. Dr. Burriss' publications and presentations include studies of presidential press conferences, NASA photographs, radio news, legal issues related to teens' use of social networking sites, legal research, and the Earth middle.
Dr. Burriss has served as Director of the School of Journalism, Dean of the College of Mass Communication, and Chairman of the MTSU Faculty Senate. He was appointed by Governor Phil Bredesen to serve on the Tennessee Board of Regents. He was a lieutenant colonel in the US Air Force and served on active duty in Mali, Somalia, Bosnia, Central America, Europe and the Pentagon.
More WGNS News Headlines:
1.) Extortion Scams Targeting Murfreesboro Residents
2.) Kidney stones are both painful and EXTREMELY common in Rutherford County and beyond
3.) Average monthly cost of household bills in Murfreesboro, Smyrna, LaVergne, Tennessee
4.) Free school supplies for local kids and teens
5.) A suspect in the sheriff's drug investigation speaks out