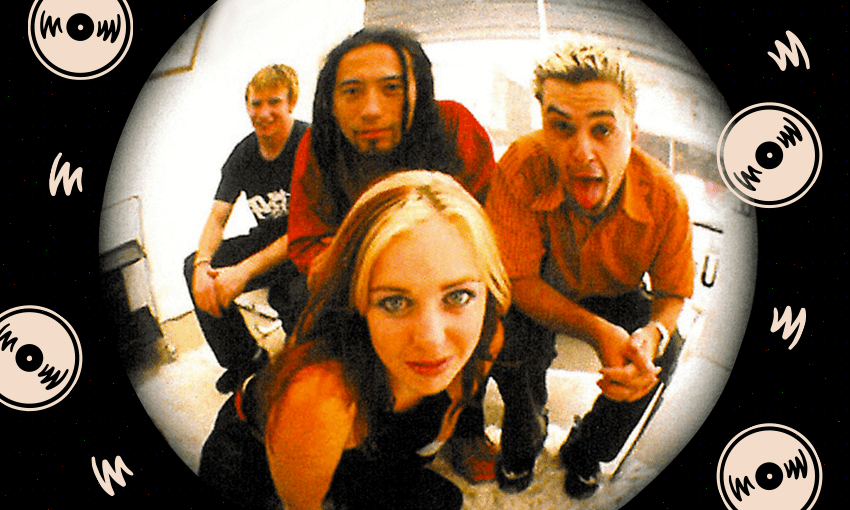 The members of the hit New Zealand rock band can finally celebrate their musical heritage after reaching a deal with their former record company.
EEarlier this year, Dino Lawton walked around his stuffed shed picking out things to throw away. Tucked away in the corner was a box of papers he hadn't seen in a while. When he opened it, he found a surprise. Inside were the long-lost label deals he and his bandmates had signed 20 years earlier, when he was the drummer for Tadpole, a now-defunct rock band that was well known for a series of singles suitable for radio and many, many live shows in the early 2000s.
As he flipped through pages full of bullet points and signatures scribbled in ballpoint pen, memories came flooding back to him, of playing gigantic mosh pits at the Big Day Out, of flying to East Timor to play for peacekeeping troops, and the constant and relentless touring of the band's ever-changing formation lasted. "We just worked our asses off," he says. "We averaged two shows a week for four to five years."
Tadpole broke up in 2006 and Lawton hadn't given much thought to his old band and the music they were making, fueled by the vocals of Renée Brennan. The band signed their first contract with Pagan Records in 1998, and Lawton believed the label still owned the rights to the band's music. This meant that any royalties from streaming or licensing deals would primarily go to the record company, not the band.
Essentially, the band thought they had no rights to their own music. Aside from a $15,000 payout — for using the band's biggest song, "Alright," as a Gillette Motorsport soundtrack — split between three of the band members a few years ago, they had no not seen a dime of the music they had invested so much time and energy for over a decade.
In 2022, Tadpole's online footprint is small. Only some of the band's songs are available on streaming services. Their second album, The Medusa, is completely missing. There's no official Tadpole YouTube account – instead someone else uploaded grainy versions of music videos like "Alright" and "Blind", which racked up hundreds of thousands of likes. views, as well as comments from fans saying things like "Bring Tadpole back!"
The band's three records, released between 1998 and 2006, have not been remastered, reissued, or reissued on vinyl, like many bands of their era. In the age of streaming, when long-dead bands or decades-old songs can suddenly, randomly, become popular again, Tadpole's presence has been, to quote one of their greatest songs, a bit of a blind spot. . "None of our content is on TikTok," Lawton says. Are the fans asking what's going on? "Yes, they do," he says.
Until recently, he didn't know what to tell them. Lawton believed that due to the contract the band signed in 1998, their hands were tied. This contract meant that he and his former bandmates could do nothing with their music. It's a problem for many artists, including Taylor Swift (who is re-recording her early albums after losing the rights to her masters) who signed away the rights to their music early in their careers. Not owning the masters, the right to use an artist's music as they wish, means they cannot make money from their recordings.
But the contract Lawton pulled from the box of papers in his shed in March was not Tadpole's original 1998 contract. It was a long-forgotten second deal, signed in 2002, following the release of the band's triple-platinum debut album, The Buddhafinger – one that earned consistent airtime with its crunchy guitar-driven songs "Backdoor " and "Number One".
This record was so popular that it gave Tadpole the opportunity to renegotiate his contract with Pagan Records. Lawton had forgotten that until his discovery of the shed earlier this year. "We re-signed because The Buddhafinger was such a big record," explains Lawton. "For the second option, we changed a lot of things."
This "stuff" includes a clause stating that the rights to any music created for Pagan Records would revert to the band 10 years after its release. "They have the cream period where they can make the most of it," says Chris Yong, the guitarist who used to toss his dreadlocks in Tadpole music videos. "Then it comes down to the artist."
An the kitchen table of Lawton's home in Avondale, history is compiled. Plastic cases filled with CDs, singles, cassettes, demos and hard drives are full of content waiting to be sorted, dated and restored. On a nearby computer, old promotional photos and videos full of musicians with carefully selected bangs, dreadlocks and facial hair are organized into folders. Songs from Deftones, A Perfect Circle and Rage Against the Machine accompany this sunny Sunday afternoon activity.
Together, this amounts to the remains of Tadpole, and Yong and Lawton are busy reminiscing about the group's time together. "It was fucking epic," Lawton says of the band's 2002 tour of East Timor, when Brennan, Lawton, Yong and then-bassist Shannon Brown spent two days in a noisy Hercules with the R&B singer K'Lee and comedian John Glass during perhaps the weirdest series of performances ever by a team of New Zealand performers overseas.
Lawton searched his local PB Tech for a CD-ROM drive so he could sort through all the photos from this tour. "Tadpole disturbing the peace in East Timor" was how the NZ Herald covered the broadcasts at the time, detailing how a mob of 600 soldiers formed a moshpit for the Tadpole plateau, despite being required to keep their weapons on their person at all times. Mosquitoes, snakes and scorpions were also a problem for the tour group.
Yong recalls a frenzy surrounding the group in the early 2000s, with radio stations like Channel Z and The Dot, as well as music station C4, putting Tadpole's songs into high rotation, alongside a emerging range of heavier Aotearoa music like The D4, The Datsuns and Blindspott. "It was such a boom," he says. Why isn't Renee here with them to go through the history of Tadpole? "She has a private life now and keeps to herself," Lawton says.
The Spinoff first met Lawton and Yong several months ago when the pair feared they were settling for a long fight with their record company. Music lawyer Chris Hocquard had been hired, and emails with Pagan Records had gone unanswered. (Hocquard declined to comment for this story, citing ongoing negotiations.)
Things seemed to be progressing when The Spinoff got in touch with Timothy Moon, who co-founded Pagan Records with Trevor Reekie in 1985. In response to a request for an interview, Moon sent this short reply: "We haven't had no contact. from Tadpole until now. As part of our ongoing negotiations, the matter is resolved to everyone's satisfaction and remains confidential between the label and the artist.
Lawton confirmed that a 30-page contract had landed in his inbox. Although the details are confidential, he says the band signed him all. This gives Tadpole their masters back, which means they can use their music however they want and make money from it. That means The Medusa will land on streaming services soon, with vinyl and CD reissues – including a four-disc "Tadthology" CD collection – hitting stores next month. A vinyl reissue of The Buddhafinger is scheduled for February.
Moon seemed to confirm this when he told The Spinoff, "We're looking forward to re-releases!"
It's a chance for Tadpole to celebrate its legacy, opening the door for the band to give fans what they've been asking for, including B-sides, remixes and lost songs that have been stuck on hard drives for over a decade. 'a decade. Lawton thinks there is enough footage recorded during Tadpole's time together for a documentary.
On Tadpole's Facebook page, which Lawton started recently, he and Yong posted old photos and videos and reminisced with fans. "The number is limited, so be sure to pre-order now or you'll probably miss out," he recently wrote, sparking interest in re-releases.
People still talk about Tadpole all the time, Yong says, even though their musical exploits feel like they happened ages ago. "It's something surreal. Twenty years is such a long time, but I get weird comments about their love of music and they just keep making it," he says. "It's like, 'Wow, you still remember that thing we did when we were young.'"
But there's one thing fans shouldn't expect: any type of tour or live show. Despite promising talks several years ago for a gig marking The Buddhafinger's 20th anniversary, Lawton says that's unlikely to happen. "It's going to be too hard. Renée has not sung for years, Paul [Matthews] the bassist lives abroad. I don't think he's that enthusiastic," he says.
Lawton doesn't care. He's just happy to have found that contract, to be able to pay his legal fees using proceeds from upcoming reissues, and to bring Tadpole's songs to life around the world. Yes, maybe even on TikTok. "It's actually cooler if we don't [play live]," he says. "Everyone does."