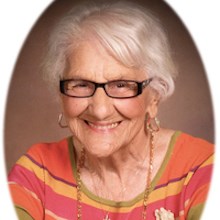 January 7, 1924 – July 4, 2021 (97 years old)
SHARON – Viola E. Bowers, 97, formerly of Norris Avenue, died Sunday July 4 after a brief illness.
Mrs. Bowers was born January 7, 1924 in Farrell, daughter of Anthony and Madelaine (DeCapua) Conte.
A longtime resident of the area, she graduated from Sharon High School in 1943 and obtained an associate's degree from the former Shenango Valley Business School, Sharon.
Vi began her career in downtown Sharon as a sportswear buyer at the Sharon store, then worked at Whitmer Smith for 40 years as a jewelry, stockings, handbag and clothing buyer. sports clothing.
She also helped Kay Driscoll with her bridal boutique and eventually retired from the Cohen store.
She has been named "Seller of the Year" three times by the Downtown Sharon Business Association.
Vi has been an active member of St. Joseph's Church, Sharon, for over 50 years. She was the president of the Ladies Guild and past president of the church bazaar, soup party, trash and treasure, cookbooks, and funeral dinners, which she did for many years. .
She was a member and past president of the Catholic Daughters of the America (CD of A), Sharon Court # 507.
Vi was extremely active in the community and served as an officer for the Hermitage Women's Club. She was secretary of the American Business Women's Association (ABWA) and past president of the Shenango Valley Walking Club.
In 1980, she was honored as "Neighbor of the Year".
Vi was a member of the former Sharon General Hospital Auxiliary and for many years was the chairperson of the annual charity ball held at the Shenango Inn.
During her time with the auxiliary, she volunteered over 800 hours.
She was a member of the Red Hat Society and enjoyed attending summer concerts in Buhl Park.
Vi was always there to help, whatever the occasion, and never shied away from being responsible.
She loved to organize Italian dinners and she lived her life where everyone always came first.
In memory of Vi, take the time to do an act of kindness.
Her husband, Harold J. "Bordy" Bowers, whom she married on August 11, 1946, died on August 12, 2000.
Her daughter, Shirley Bowers-Donak, and her husband, James, of Hermitage, where Vi has made his home for seven years, survived.
Besides her parents and her husband, she was predeceased by brothers Angelo Conte, Guy Conte and Anthony Conte.
The family suggests that the memorial contributions be directed to Buhl Park, 715 Hazen Road, Hermitage Pa. 16148.
According to Vi's wishes, there are no calling hours. Online condolences can be sent to family at www.McGonigleFuneralHomeandCrematory.com.
A private funeral mass was held in the Chapel of St. Rose's Cemetery with Reverend Glenn R. Whitman as celebrant.
The entombment took place at the mausoleum of St. Rose cemetery, Hermitage.